Includes over £2.5 Million Worth of Profit Strategies...
This Free Report Reveals High Impact Profit Strategies for Motor Dealers
Discover 29 Common Mistakes Motor Dealers Make -
Costing Them Money Every Single Day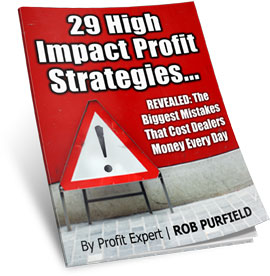 Just pop your details in the boxes below and we will automatically send you a free copy of this special report
We respect your privacy, and hate spam as much as you do. your details will NOT be shared with any third party.

Dear Head of Business,
Imagine being able to add over £500,000 to the bottom line performance of your Dealership in just the next 12 Months without spending an extra penny on marketing!
Well, even in the current market conditions it can be done!
Download my amazing report today and discover...
9 Guaranteed ways to Sell More, More Profitably, More Often
13 Must know Negotiation Tactics that your sales department should be using to add 33% and more to your Unit profit on EVERY Vehicle you Sell
4 Strategies that could add a further £500,000 to the Performance of your Aftersales Department
A FOOLPROOF way to make sure your Advertising works and make it even more Profitable
Here's what you learn...
13 things to do right now to improve the profit on every car you sell
The #1 Activity Salespeople miss on a daily basis which may be costing you as much as £97,500 EVERY YEAR
Discover how your Sales Department Loses 42% of potential business Without Even Knowing About It...
Understand your "First Kill Ratio" and why it might be "Killing Your Business"
Identify Why Customers Buy Elsewhere and Don't Come Back
How to add £500,000 to your Aftersales Department Performance in the next 12 month
Uncover the Biggest Opportunity your Service Advisors miss which could be costing you at least £30 on EVERY INVOICE
Discover the psychological assumption Service Advisors make driving YOUR Customers into the arms of the Independents
Plus, you also discover how to convert as much as 60% of the AMBER WORK from your VHC and have your customers love you for it!
So pop your details in the boxes on the right, I will get your report to you, and feel free to e-mail me with your questions and feedback.
Best regards,


Rob Purfield, the U.K.ís Number One Automotive Profit Consultant and author of the book "The Ultimate Knockout Closing System."

P.S. This report deals with real life strategies to improve your performance immediately and is a must for anyone serious about making a profit in a Motor Dealership.